Free delivery + big savings on 2 or more
About

Protect your car from nicks, chips & scratches often caused by opening the doors.

What length do you need?
-3 metres is enough to cover most 2 door vehicles.
-5 metres is enough to cover most 4 door vehicles.
-8 metres is enough to cover most 4 door vehicles and the boot.
*We recommend quickly measuring your car's door edges to order the correct length

Protect your car from:
❌ Leaks, gaps and vibration.
❌ Outside sound and road noise.
❌ Leakage of the air conditioner.
❌ Prevent entry of dust, air and rain water.
❌ Cover the sharp metal edges.
❌ Protect car door edges from the hitting walls or other cars.

PREMIUM FLEXIBLE PVC: Made from solid PVC trim with individual metal clips and multiple gripping tongues to provide a stronger grip.

SOLID BLACK GUARD: Nice coloured finish blends in and does not show dirt or wear marks.

EASY DIY: Super easy to install on your car's doors. No glue or tools required. Super easy to remove.

WEATHER-RESISTANT: Waterproof, anti-aging, UV resistant material. Suitable for outdoor use and made to withstand heat, moisture and sunlight.

Why buy from BAP Offroad?

Buying online can be risky these days, especially when you're buying from overseas websites. Slow shipping, no support and it's costly to return items overseas.

Not only is delivery free and faster with, but when you buy from us, you're protected as a consumer.

At BAP Offroad, we offer daily deals on products you love, friendly support, free delivery and 45 day no-fuss returns ✔️

Where do you ship from?

Good question! We ship through our warehouses in the USA, Australia, Canada and the United Kingdom.

If you order from the below countries, we will ship with:
🇺🇸 USPS
🇦🇺 Australia Post
🇨🇦 Canada Post
🇬🇧 Royal Mail

How long does delivery take?

Your order will be dispatched within 1 business day. As soon as your order is sent, we will provide you with a tracking number.

Delivery can take 5-10 working days to city areas. In some cases, delivery can take up to 14 business days to remote areas.

Due to COVID19, delays and restrictions are changing every day. We would like to ask for your patience and understanding during this difficult time. 

We're doing our very best to send orders out ASAP, however there are delays and restrictions that are out of our control. We aim to be as transparent as possible with our customers, you can find more info on COVID19 here.

Can I return my item?

You sure can! If you're unhappy with your item or if you change your mind for any reason, you can return it for a refund within 45 days*

How can I pay?

We accept all major credit cards, Google Pay, Apple Pay along with interest-free 'buy now, pay later' services including AfterPay.

Once you enter your delivery address and confirm your delivery method, you will find each payment method at the end of checkout.
Join 1000s of happy customers
Customer Reviews
08 Jul 2021
Nicky N.

Australia
I recommend this product
Great Product! Quick Turnaround
Very pleased with how quickly it arrived and how good it looks on my car. Highly recommend.
16 Jun 2021
Richard J.

Australia
I recommend this product
Heavy Door Edge Protector
The Heavy Door Edge Protector is easily manoeuvred and put into position along any door edge and requires tin cutters to cut required length. Doesn't take too much force to put into position and thumb go a good workout, pressing strip. Very impressed that it provides the required protection along door edges and also placed the edge protection along the front bonnet and rear boot lid. Highly recommended and as I ordered more than enough, have spare.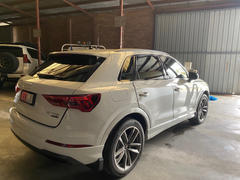 04 Mar 2021
Ivonne S.

Australia
I recommend this product
Heavy duty door protector
Service good Product good Looks good 4.5 stars.. Ivonne..queanbeyan nsw
14 Jan 2021
Ken T.

Australia
I recommend this product
Love it, and it is so easy to install it
30 Dec 2020
Jenny

Australia
I recommend this product
Very happy with product
Bought 3 meters to try, I am impressed I bought more to cover rest of the doors. My first application is still intact and have been on rough drives, people and pets in and out of the vehicle too.
08 Sep 2020
Gloria R.

Australia
15 Aug 2020
JONATHAN S.

Australia
Door protection
Easy to install . Love it. Looks good also
15 Aug 2020
Jenny S.

Australia
It sticks..
Have installed on vehicle few weeks ago, it works and has not peeled off. Easy install.
16 May 2020
byron s.

Australia
Heavy Duty Door Edge Protector Strip
great product and quick service. will buy from again in the future
11 May 2020
Karen M.

Australia
The bees knees
Very good. Arrived within the week. Just the thing for both our cars. The leftovers even did our daughters car. Hubby won't chip the door edges anymore
06 May 2020
brett w.

Australia
Heavy duty door strip
Excellent item and I have used it in numerous applications
06 May 2020
Mrs L.

Australia
Great Protector
easy to buy online - fast delivery for OZ - easy to install on car doors